What is an Indestructibone?
An Indestructibone is a virtually indestructible dog chew toy made for dogs that destroy their other chew toys! If your dog has ever swallowed large pieces of other chew toys and has made a trip to the vet as a result of it, you are in the right place. The Indestructibone chew toy will not break off in large chunks and is safe for dogs.
Our Indestructibone is proudly made in the USA out of USA sourced material. It is made of a non-toxic polymer which is BPA free, phthalate free and is FDA compliant.
Our chew toy although hard is softer than real bone and antlers. The material is abrasive free and filler free.  Our chew toy will not splinter or break off in big chunks. It is normal for the Indestructibone to flake off in tiny pieces about the size of a grain of rice. This material is non-toxic and will pass.
The Indestructibone has a small hole on each end that you can add your dog's favorite treat. 
 Our chew toys are guaranteed to last for 90 days or we send you a new one free. Many of them last for months longer than this. 
It is important that you buy the correct size for your dog so that it will last a long time and be a safe size for the size of your dog. 
First chewing sessions should be monitored.
We do not recommend them for puppies 6 months of age or younger because their teeth are not as strong as adult dog teeth. 
We do not recommend them for dogs with prior or current dental problems, unknown dental history and cannot be responsible for injury due to use by dogs with the aforementioned.
We normally ship out orders within 1-3 business days of the day you ordered. 
We do ship internationally, however, we cannot predict the time it will take to receive your order because the time taken to clear customs can differ. We are also not responsible for customs fees.
We offer a 90 day – 1 time replacement guarantee. If we determine that your Indestructibone is in need of replacement, we will replace it for no charge up to 90 days after you receive it.
We also have a 30 day return policy. If you wish to return your Indestructibone, contact us within 30 days of receiving it at bulletproofpetproducts@gmail.com.  We will email you a shipping label for you to return the Indestructibone. Refund will be issued within 10 business days of receiving the Indestructibone.
This is a picture of some normal wear on the first day.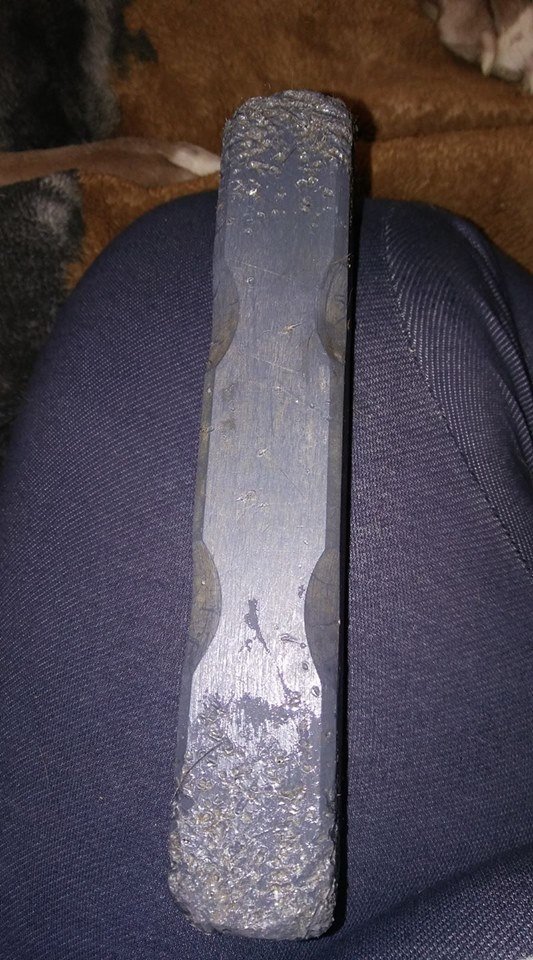 Please see replacement and returns page for more information.
If you ever have a question or concern regarding our products please feel free to contact us and we will get back to you! 
We value our customers!
You may contact us bulletproofpetproducts@gmail.com, you can message us on our Facebook page - www.facebook.com/indestructibone, our Instagram page @indestructibone or you can call us at (925) 262-6128 M-F 9 am to 4pm
IMPORTANT SHIPPING INFORMATION
Please Note: Shipping Policy in Regards to International Customers (outside of the U.S.)
Shipping our products outside of USA in regards to customs is at the buyer's own risk due to the fact that every region/state varies regarding import regulations.
Bulletproof Pet Products will not be held responsible or liable for any problems that result at your local customs office, nor for any customs duties or taxes that arise from your local customs office.
If customs duties are assessed, these are in addition to your shipping charges and must be paid directly by you.No refunds will be given for items that are seized at your local customs office. We will also not be held responsible for any additional fees the local carrier in your country may charge. 
If your package is lost. It will have to be lost 45 days before we can apply for an insurance claim. At that time, we can ship out a duplicate  shipment to you.