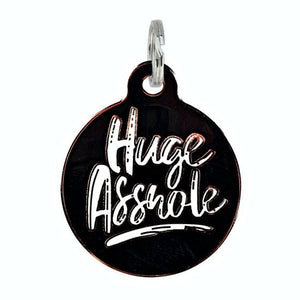 Bad Tags - Black Enamel Dog Tag Charm - Huge Asshole
Our new enamel dog tags feature a gorgeous chrome shine, premium durability, and the funniest original sayings.
! ▴ WHY YOU'LL LOVE IT ▴
💪 Durable & Chewproof
✨ Fetching Chrome Shine
💯 Unique & Exclusive Designs 
Rescue Tag Size: 1.25 inches across in diameter by 1.5 inches tall. Slightly larger than a US quarter.
Tag Material: Nickel Plated Hard Enamel Tag.