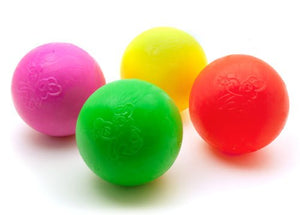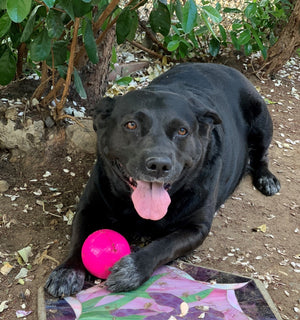 BALL XL - DOGS 40 LBS PLUS - BY RUFF DAWG
Rubber retrieving toy
floats, bounces, indestructible!
The BALL XL 3.5" diam. for medium to large dogs
We created the BEST BALL EVER!

Indestructible with a Lifetime Guarantee. (please read guarantee) 

Heavy duty solid rubber balls come in an assortment of bright neon colors.
These indestructible balls float, bounce and take serious abuse during heavy play, but stay gentle on teeth and gums, so the retrieving can go on and on!
If your dog damages her Ball, don't panic, we've got you covered with a replacement guarantee! About the Ruff Dawg Lifetime Guarantee
This guarantee is covered by Ruff Dawg and not by Bulletproof Pet Products. You must supervise your dog at all times with Ruff Dawg toys.
Comes in assorted neon colors. (green, pink, yellow and orange) You will receive a random color.