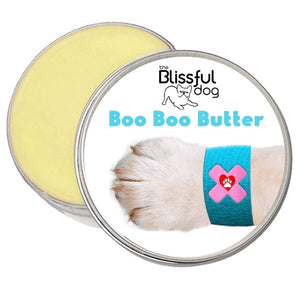 BOO BOO BUTTER BY THE BLISSFUL DOG - 2 OZ TIN
2 oz Tin
Does Your Dog Ever Have Bug Bites? Itchy Spot? Scrapes? Scratches?
Those non-emergency troublesome scrapes and scratches that  need something MORE to facilitate the healing process? 
Your active dog needs Boo Boo Butter. Your dog spend every waking minute playing, running, rolling in who knows what and basically living large being a dog! Of course, there will be inevitable scratches, scrapes, bangs and bumps. 
No artificial ingredients, no synthetics, no petroleum by-products, nothing you cannot pronounce, just good stuff to support your dog's healing process. Complete info in videos and tabs below.
Use Boo Boo Butter For...
Minor Skin Irritations & Abrasions

Tear stained areas (Tips in Tabs below)

Random Rashes & Abrasions

Crusty Ear Edges

Itchy Bug Bites

Dry Skin Spots & Hot Spots

Nose Wrinkles* & 

Facial Folds (Tips in Tabs below)

Banged Tails aka Happy Tail

Tailless Dog Yucky Area