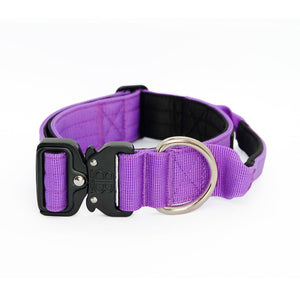 Bully Billows 1.5" (4CM) Combat Collar with handle - Purple (Padded)
The BullyBillows Combat Collar is equipped with triple-stitched Nylon, a secure 6mm Stainless Steel D Loop and a specially crafted bespoke clip for quick release and lock.
Lined with comfortable Neoprene inside the collar for ultimate comfort.
For total control and peace of mind, we've included a double-stitched handle perfect in emergency situations.

Suitable for daily use on any breed and used for professional dog handling, police, military and security.