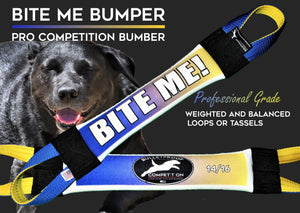 DOCK DIVING BUMPER TUG - COMPETITION SERIES WEIGHTED - BITE ME OMBRE
Professional Grade Weighted Bumper / Tug made by Bulletproof Pet Products.  The loops are double layered. Blue sewn to yellow. If you choose tassels the tassels will be blue and yellow.
This bumper / tug is pre-designed and will have the BITE ME /OMBRE PATTERN as pictured. The name on the bumper / tug is just an example of a name we can print on the bumper / tug. You can choose with or without name.
Used by professional dock diving dogs. This amazing dock diving bumper / tug will bring you to the next level. Each bumper / tug is made by hand and is made to be weight balanced. You can practically balance it on your finger! This makes for amazing throws and amazing dock diving competition.
The inner core makes it float longer than other dock diving bumpers / tugs because it won't become water logged. The inner core is balanced enables the bumper / tug to be thrown further and straighter than most bumpers / tugs. It also makes the bumper / tug float closer to the water's surface making it easier for your dog to see it! That's what you need when you are competing!
Bumpers/tugs are made to order and are currently taking approximately 2-3 weeks to make.
CUSTOMER NOTES MUST HAVE THE FOLLOWING INFORMATION:

1. NAME OR TEAM NAME IF SELECTED. IF IT IS A LOGO, STATE YOU HAVE A LOGO AND EMAIL IT TO BULLETPROOFPETPRODUCTS@GMAIL.COM WITH YOUR ORDER NUMBER.
2. 12 INCH/14 OZ BUMPER / TUG OR 14 INCH/16 OZ BUMPER / TUG - TASSELS OR LOOPS.
Our bumpers / tugs ARE NOT made out of up-cycled or used fire hose that may have been used in fires and may be contaminated with all kinds of chemicals. We use brand new double walled fire hose, which is tougher, safer and cleaner! They are very durable.  They are sewn with a BOX X stitch which is more sturdy than your average bumper / tug. These bumpers / tugs are made for toss, fetch and dock diving and are not a chew toy. Supervision is required.

If you have any questions you can call or text 925-262-6128 or email us at bulletproofpetproducts@gmail.com.

Personalized bumpers / tugs are NOT eligible for return. 
THESE ARE DOCK BUMPERS / TUGS . MADE FOR DOCK DIVING AND TOSS AND FETCH. THESE ARE NOT CHEW TOYS AND DO NOT COME WITH A CHEW GUARANTEE.
 Circumference: approximately 6.5''