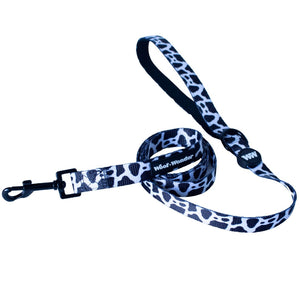 Holy Cow - Comfort Grip Leash
This high-quality, washable leash features ultra-strong webbing and metal hardware.
- 1-inch wide, ultra-strong nylon webbing
- Padded neoprene handle for extra comfort
- One size: 5ft length, 1in width
- Easily hand-washable
- Sturdy metal D-ring and swivel clasp
- Double-stitched for durability and strength
Care Instructions: Please hand wash your pet's leash in warm soapy water and lay flat to dry. Do not dry clean. Please note that salt water may be harsh on the metal hardware, so be careful to dry your leashes quickly after the beach.