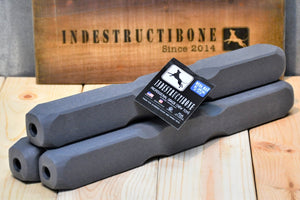 Indestructibone™Professional Grade Mega Max Chew Toys 3 Pack - Dogs 51-100 lbs
INDESTRUCTIBONE Mega Max Chew Toys (3 PACK)
Bulletproof Pet Products Indestructibone is a virtually indestructible chew toy. It is made especially for those dogs that are tough on their chew toys. It has a small treat hole on each end so that you can add your dog's favorite treat.
Indestructibone Mega Max is made for dogs up to 51-100 lbs.
Comes with a 90 day – 1 time replacement guarantee and a 30 day satisfaction guarantee. Please see "Replacement" page for more information on our replacement guarantee.
We will replace each one free if it is chewed down to 7" or less in 90 days or less. Contact us and send us a photo of the Indestructibone next to a tape measure or ruler.
Approximate measurements: 12" X 1.25" X 1.25"
Each Mega Max Indestructibone weighs approximately 15 oz.