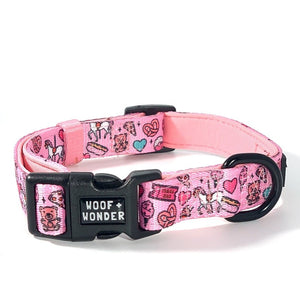 Pink Carnival - Collar
Say hello to our adorable Carnival Cutie matching collar! This high-quality, washable collar features:
- 1-inch wide, ultra-strong nylon webbing
- Lined with neoprene for extra comfort around the neck
- Easily hand-washable, lay flat to dry
- Sturdy, metal D-ring for leash attachment
- Double-stitched for durability and strength
Size:
Small: 10''-14''
Medium: 12''-18''
Large: 16''-24''
Care Instructions: Please hand wash your pet's collar in cool soapy water and lay flat to dry. Do not dry clean. Please note that salt water may be harsh on the metal hardware, so be careful to dry your collars quickly after the beach. No pet collar is indestructible so please do not leave your pet's unattended with accessories around their neck.