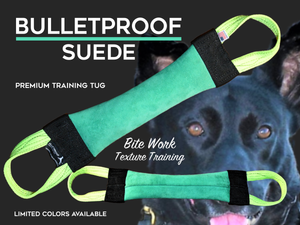 SUEDE AND FIRE HOSE BITE TRAINING TUG
 Bulletproof Pet Products already makes the best training tugs on the planet. We started with brand new double jacket premium fire hose and added our patent pending core. Then we added 2" sleeves, triple stitching and the triple layer handles to make it one of the strongest tugs ever made. The triple layer handles are made with heavy duty webbing surrounded on both sides by military grade rubberized webbing. The rubberized webbing makes it easier on the hands and provides for a stable non-slip grip. We also make the loops longer than our standard loops, making it easier to hold.
Taking the already 2 layer tug, and being Bulletproof Pet Products, we wanted to make the Prada of training tugs. What better to do that with than real suede?

Buttery soft, yet strong, our suede tugs offer a new, yet important aspect to bite training. New textures and new smells are important to introduce to your bite training tool kit. Introducing different textures will condition your dog to not "out"  due to a different texture in their mouth. Be the best at what you do with top notch professional products by Bulletproof Pet Products.

You can also choose to have a single layer of aramid, making this tug tough!!

Be the envy of other K9 trainers and handlers with the best bite training tug on the market. Bulletproof Pet Products quality tugs are sourced in the United States and made to order. Quality without compromise.

14" base - sleeve to sleeve 

24" overall length end of loop to end of loop
15 ounces (approximate weight and lengths)
Personalized Tugs are NOT eligible for return. 
These Tugs are made to order and may take up to 2 weeks to ship.

THESE ARE TUG/BITE WORK TUGS. MADE FOR TUG PLAY, BITE TRAINING AND TOSS AND FETCH. THESE ARE NOT CHEW TOYS AND DO NOT COME WITH A CHEW GUARANTEE. 
HANDLES ARE FOR YOUR HANDS. DOGS TO TUG ON BODY OF FIRE HOSE.