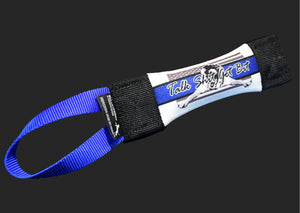 TALK SHIT GET BIT FIRE HOSE POCKET TUG
NEW AND IMPROVED! NOW OUR LOOPS HAVE TWO LAYERS OF WEBBING PROVIDING TWICE THE STRENGTH! 
Introducing our TALK SHIT GET BIT FIRE HOSE POCKET TUG. Perfect for K9 handlers with working K9's. As this tug is shorter than a regular tug, it will fit in most pockets to provide an immediate reward for your K9 partner. (It is 9" long, not including the loop/handle, 7" in diameter and 3" wide. This is one tough tug and it will float. Each tug is made to order, made to last and MADE IN THE USA. These are extremely heavy duty!
Our tugs ARE NOT made out of upcycled or used firehose that may have been used in fires and may be contaminated with all kinds of chemicals. We use brand new double walled fire hose, which is tougher, safer and cleaner!  
They are very durable. Your dog will love it!  They are sewn with a BOX X stitch which is more sturdy than your average tug. These tugs are made for tug, toss and fetch, and are NOT a chew toy. Supervision is required.
You even have the option to add your dog's name (or any words of your choice up to 12 characters (counting spaces).  If you choose to add a name on the tug, please remember to put it in the customer notes.
Please allow up to two weeks for the tug to be made.
If you choose to add a name, please put the name in the notes. There is a 12 character limit for a name.  The letters will be approximately 1 inch high.  If it is over 12 characters the print will be slightly smaller. 
Personalized Tugs are NOT eligible for return
These Tugs are made to order and may take up to 2 weeks to ship.

THESE ARE TUG TOYS. MADE FOR TUG PLAY AND TOSS AND FETCH. THESE ARE NOT CHEW TOYS AND DO NOT COME WITH A CHEW GUARANTEE. 
HANDLES ARE FOR YOUR HANDS. DOGS TO TUG ON BODY OF FIRE HOSE.